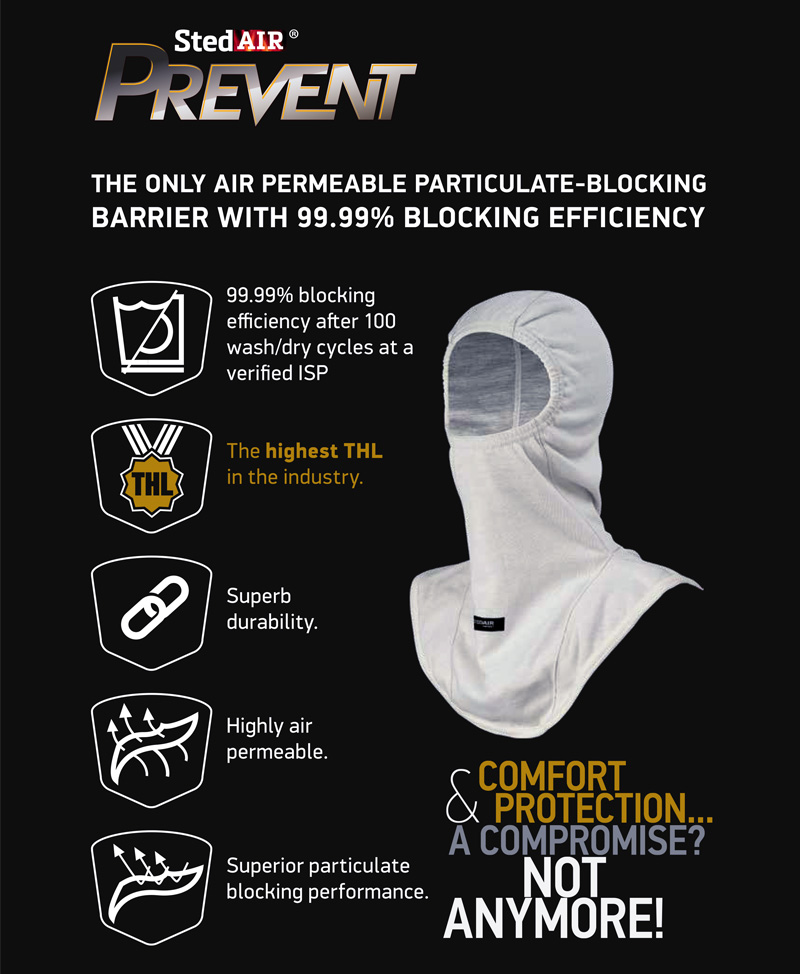 FIRE SERVICES
STEDAIR® PREVENT
Hoods manufactured with STEDAIR® PREVENT Particle Blocking Technology will be the most durable in the field.
STEDAIR® PREVENT is the leading particle blocking hood material. The PREVENT Particle Blocking Barrier Technology provides the best solution for firefighters.
Protection against the dangerous cancer-causing particles
Thermal protection from burns
High Total Heat Loss, resulting in superior comfort and protection from heat stress.
THL is the ONLY property recognized by NFPA 1971-2018 for protecting firefighters from heat stress. When tested with an outer knit layer, Stedair® PREVENT produces results that are 80% higher than the minimum requirement. NFPA 1971-2018 Test: 8oz/Yd2 knit (20% NOMEX®/80% Lenzing®)
Turnout Gear Reinforcements
Stedfast has developed highly technical turnout gear reinforcements products for all gear related to NFPA 1971 standard. Our durable products are engineered to meet the high performance requirements of the standard and bring value to the overall products that are offered to the Fire Service all over the world.
STEDSHIELD® FR is a CSM (formerly know as Hypalon) coated Kevlar that is used for knee and general reinforcements for turnout gear. Stedfast has spent 2 years developing our new formula, STEDSHIELD® FR, which gives longer durability in the field and provides a much softer hand. STEDSHIELD® FR is available in Black, Grey and Gold. NFPA 1971-2018 compliant.
STEDPRENE® FR is highly engineered reinforcement fabric that can be used in various parts of a turnout coat. It is a neoprene (synthetic rubber) coated FR cotton and is NFPA 1971 (2018 ed.) compliant. It is used as reinforcement for cuffs, collars and trim. NFPA 1971 – 2018 compliant.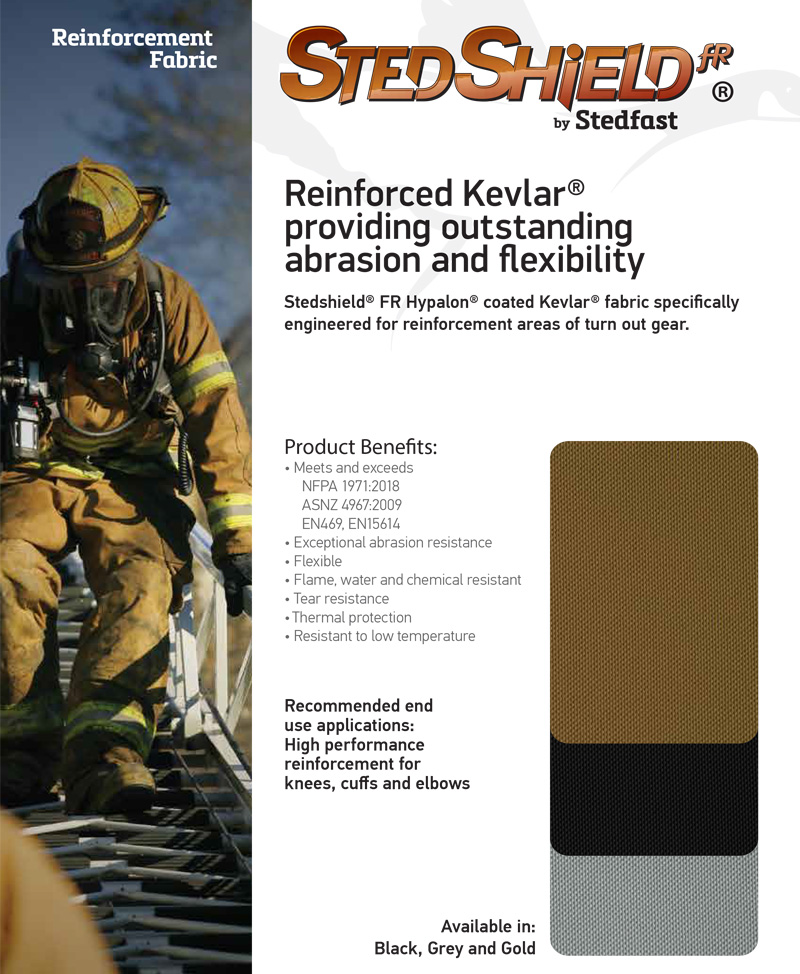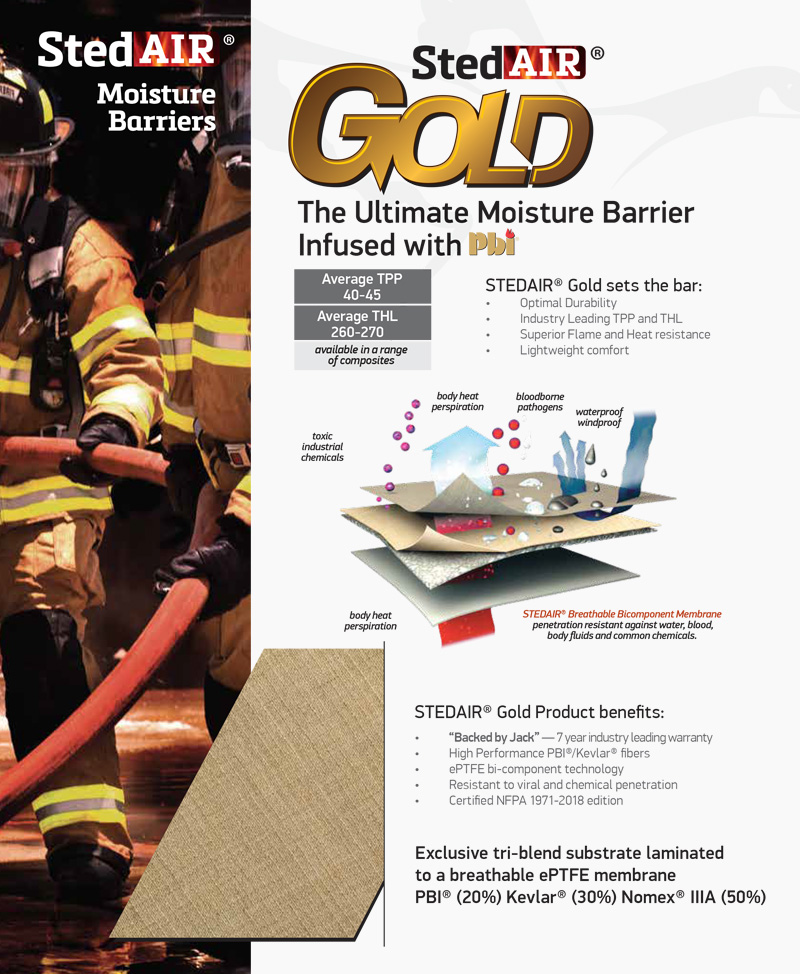 STEDAIR® Gold
Stedair® Gold is a premium moisture barrier that provides outstanding protection and enhanced durability to Firefighters, providing increased protection and outstanding longevity.
Stedair® Gold is designed with a woven PBI/Nomex®/Kevar® pajama check substrate and an enhanced bi-component e-PTFE membrane. Combining these technologies allows us to provide higher moisture barrier durability along with increased thermal stability which translates into better protection for the firefighter. This moisture barrier shall meet and exceed all requirements of NFPA 1971-2018 edition, which includes water penetration resistance, viral penetration resistance, and common chemical penetration resistance.
STEDAIR® Gold provides superior protection against blood borne pathogens, toxic industrial chemicals (TICs), toxic industrial matter (TIMs) and other harmful chemicals:
Blood-borne pathogens
Battery Acid
Hydraulic Fluid
Gasoline-Fuel C
Aqueous Film Forming Foam (AFFF)
Chlorinated Water